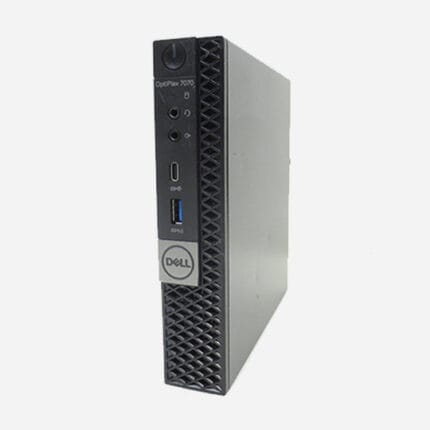 $

399.99
Compact powerhouse: Performance, affordability, sustainability in one.
Intel i7-9700 processor and 16GB RAM: Multitasking made effortless.
512GB NVMe SSD: Lightning-fast storage for seamless productivity.
Windows 10 Home: Enjoy an efficient, user-friendly experience.
Refurbished saves money, promotes green tech, reduces e-waste.
Unleash top-tier performance, save money, and champion sustainability with the refurbished Dell OptiPlex 7070 Micro.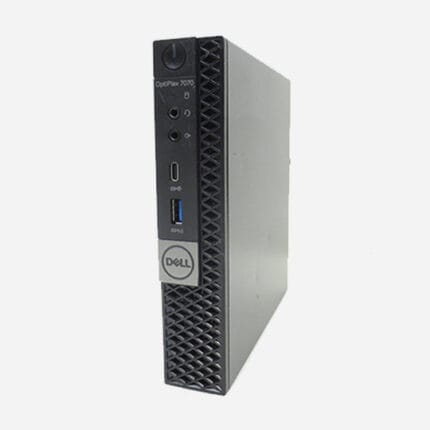 $

399.99
Unleash unmatched performance with the Intel Core i7-9700T processor.
Seamless multitasking enabled by a robust 16GB RAM.
Swift data access with a 512GB NVMe SSD storage drive.
Go green, prevent e-waste by opting for refurbished electronics.
Enjoy superior tech at a fraction of the original cost.
Experience top-tier performance, make a smart, eco-friendly choice, and save money with the refurbished Dell OptiPlex 7070 Micro.
Refurbished Desktops: Unleashing Power and Performance
Welcome to our remarkable collection of refurbished desktops, the home of impressive computing power, matchless efficiency, and exceptional affordability. This vast and diversified selection perfectly combines top-tier tech and wallet-friendly prices, serving every type of customer, from tech enthusiasts to hardcore gamers to business professionals.
Rekindle Top-Tier Tech at Economical Prices
Why compromise quality for cost? In our refurbished desktop category, experience top-notch tech from trusted brands without burdening your budget. Unearth hidden gems that undergo rigorous testing and certification processes, ensuring they match the same high standards as brand-new systems.
Economical: Save on cost without sacrificing quality or performance.
Quality-Checked: Every product passes stringent checks to ensure optimal functionality.
Eco-Friendly: By choosing refurbished, you contribute to reducing electronic waste, and promoting sustainability.
Unleash Unrivalled Performance
Whether you're crunching complex data, streaming high-definition content, gaming, or multitasking, our refurbished desktops pack a punch. Power and performance underpin every system, serving you a computing experience that's responsive, fluid, and consistently reliable.
Powerful Components: Expect top-rated processors, robust graphics cards, and ample memory space.
Optimized Performance: Refurbished doesn't mean second-rate; our desktops run as smoothly and quickly as their brand-new counterparts.
Dependable Durability: Each desktop demonstrates long-lasting resilience, a testament to its build quality and the rigorous refurbishing process.
Catering to All Your Computing Needs
Our refurbished desktop category is a treasure trove of options, promising a device that syncs seamlessly with your requirements. Be it for professional work, academic endeavors, or recreational purposes, your ideal desktop awaits.
Range of Brands: Find your preferred names in tech, from Apple to Dell, HP to Lenovo, and many more.
Tailored Solutions: Choose based on your specific needs – processing power, storage space, or graphics capabilities.
Versatility: Perfect for home, office, or education, our desktops adapt to any environment.
Assured Post-Purchase Support
Our commitment to you doesn't end at purchase. We're here for the long run, offering dedicated customer service to ensure a seamless, worry-free experience post-purchase.
Step into a World of Smart Savings
With our refurbished desktops, you enter a world where unmatched performance meets significant savings. It's time to enjoy high-grade tech without the hefty price tag, without compromising quality or reliability.
So why wait? Explore our refurbished desktop category now, find the desktop that's precisely right for you, and join the revolution of smart, economical tech. It's time to redefine the way you compute.
Explore now and elevate your digital experience today!